Building America - Habitat for Humanity Partnership
Americus, GA
Flagship Project: Gulf Coast High Performance Affordable Housing Demonstration Project
From 2007 to 2009, the Building America Industrialized Housing Partnership worked with seven partners in the Gulf Coast region. This area sustained damage from Hurricane Katrina and was still in the recovery process. (Figure 1). The High Performance Affordable Housing Demonstration Home was created to give builders in the region a cost-effective model of high performance. This report summarizes our work with the seven partners to implement the proposed affordable, off-the-shelf, energy efficiency packages. The goal was to reach 30% and 40% whole house energy source savings (WHSES) calculated under the 2008 Building America Benchmarking Procedure, standard construction practices, and implementation challenges.
Eleven houses were constructed during the project. Four of the houses were completed in 2008 and met the 30% savings goal; however, one of these homes did not meet the program's target duct leakage. Seven more houses were completed in 2009. Of these houses, three met the 40% goal and two met the 30% goal. The two remaining houses failed to reach their target goal. One house had duct leakage in excess of ENERGY STAR criteria, and the other one was not completed by project end which prevented final testing.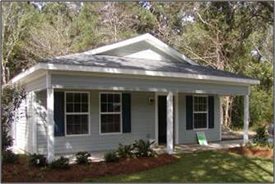 East St. Tammany HFH Prototype in Slidell, Louisiana
Habitat for Humanity in Cincinnati,
Cincinnati, OH
2007 Jimmy Carter Work Project,
Los Angeles, CA
Habitat for Humanity
Plains, GA
The Building America-Habitat for Humanity partnership, formed in 1995 at Habitat's Environmental Initiative Kickoff, has brought BAIHP into the design, construction, and evaluation process of over 500 Habitat homes across the nation built by 50+ Habitat for Humanity affiliates in more than 20 states. BAIHP activities with Habitat (including those conducted under the Energy Efficient Industrialized Housing Project) are listed in the Table below.
BAIHP energy efficiency recommendations for Habitat homes need to meet 4 criteria to be successfully integrated into Habitat's construction process.
They must be:
Cost effective

Volunteer friendly

Readily available in current market

Easily maintained and repaired
Building Energy Star certified homes is an excellent first goal for Habitat affiliates interested in high performance housing (see information in the News Flash box at right). Many Habitat affiliates have partnered with Building America and, by extension, RESNET volunteer HERS raters, to meet and/or exceed this goal. The case studies below explain some of the techical improvements that were made including benefits and motivations.
Habitat for Humanity Case Studies

Building America has a long history of partnership with Habitat for Humanity International and Habitat affiliates across the country. Case Studies of Habitat affiliates provide insight on building higher performance affordable housing:



Habitat for Humanity Partnership - Early Experience
Our partnership with HFH began in 1995 during the rebuilding period after Hurricane Andrew struck Miami. This work included design assistance and a field study of energy use patterns in habitat homes: Read field study here Subsequently, we worked with HFH International to provide development support for strategic energy efficient goals and habitat affiliates in states around the country to provide design assistance and technical field support including Jimmy and Rosalin Carter projects and other blitz builds.
Building America Technical Assistance to Habitat for Humanity (Presentation)
Powerpoint presentation presented by Janet McIlvaine in February 2007.
At the request of HFHI's Construction and Environmental Resources Department, Building America participated in a National Construction Leadership Training event in Gautier, Mississippi. Building America researchers provided classroom and hands-on training to help participants sharpen their understanding of building science concepts - a core element of construction leadership.
High Performance Home Building Guide for Habitat for Humanity Affiliates
This guide offers comprehensive advice to Habitat affiliates and other affordable housing builders on how to build high performing housing that is sustainable, healthy, and safe. It also includes best practice case studies and recommendations from Habitat affiliates throughout the nation.
For More Information
Contact Janet McIlvaine (janet@fsec.ucf.edu) or David Beal (david@fsec.ucf.edu)
Habitat for Humanity International Website