Gulf Coast High Performance Affordable Housing Demonstration Project
In Partnership with Habitat for Humanity Affiliates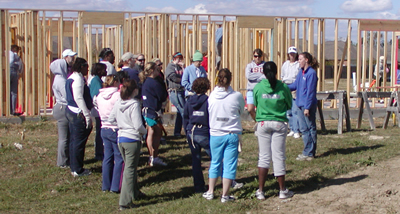 Volunteers at HFH of Greater Baton Rouge construction site
The main goals of the Gulf Coast High Performance Demonstration Project were to encourage high performance re-building in areas affected by hurricanes Katrina and Rita and to demonstrate that it could be achieved in the challenging, affordable housing sector. Given the opportunity to impact thousands of houses in dozens of communities, the Department of Energy provided abundant technical resources to builders in the region on how to apply Building America's proven approach to building high performance homes. In many markets across America, this type of technical assistance to production builders created a ripple of change in a challenging post-disaster environment.
Beginning in 2008, the Department of Energy funded BAIHP to build demonstration houses in partnership with affordable housing providers in the recovery zone that sweeps the coast from Louisiana to Alabama. Based on work with other BAIHP partners, researchers developed a standardized approach for achieving a HERS Index of 70 while safeguarding indoor air quality, durability, and comfort. Seven Habitat for Humanity affiliates in Alabama, Louisiana, and Mississippi participated in the project effort to build cost-effective, high-performance affordable housing prototypes. Affiliates in Covington, Slidell, Gulf Port, Foley, and Mobile each completed two demonstration houses. New Orleans Area Habitat attempted two houses but did not pass the thermal bypass inspection required by the Energy Star for New Homes program.
A detailed report on the entire project, including economic analysis, is available at this link:
http://fsec.ucf.edu/en/publications/pdf/FSEC-CR-1791-09.pdf
Technical features of the standardized approach and the training materials provided to participants are summarized on this page
Follow the links below for detailed descriptions of these affiliates:
Gulf Coast Affordable High Performance Prototype Homes are indicated by the blue markers. Yellow markers show new partnerships and red markers indicate partners that started but did not complete a prototype. Click on each marker for more details.
Improvements
Researchers worked with the builders to evaluate their standard practices and identify a package of improvements to achieve a HERS Index of 70 to 75, while maintaining or improving indoor air quality, durability, and comfort. Special attention was given to the selection of improvements that were appropriate for the construction process and with broad applicability to maximize the benefit of the demonstration. Builders achieved a HERS Index of 59 to 73 when the project was completed in 2009.
Features
Indoor Air Quality Features
No atmospheric combustion heating or water heating equipment (therefore, no combustion safety measures required)
Low radon potential (therefore, no mitigation system recommended)
Indoor humidity and infiltration control strategies (estimated natural ach < 0.35)

House wrap, air sealing, and insulation checklist and inspection (ENERGY STAR Thermal Bypass Checklist) Top plate and exterior wall penetrations sealed
For frame floors: bottom plate and floor deck penetrations sealed
Passive, positive pressure ventilation when Heat/AC operates
Heating and cooling equipment right-sized with ACCA Manual J
Kitchen and bath exhaust fans ducted to outside for humidity control
Interior air handler closet (sealed and separated from attic and crawl space)
R-13 wall insulation - dense pack cellulose or batt (fiberglass or recycled cotton) installed to meet RESNET Class I quality requirements
Sill seal under bottom plate
Can lights (when present) are rated for insulation contact and air tight (ICAT)
Durability* Features
Air handler in conditioned space (less harsh environment than attic)
Water heater located in attached storage room (less harsh environment than attic)
Long life fiber cement siding
Ship-lapped window and door flashing
Kitchen and bath exhaust fans ducted to outside for humidity control
2'0" overhangs to direct water away from house
Slab raised to promote drainage away from foundation

*Disaster resistance measures are addressed by prevailing local codes and are outside the scope of this Department of Energy activity.
Energy Efficiency Features (HERS Index ~70)
R-30 blown cellulose attic insulation
R-13 wall insulation meeting RESNET Class I requirements
Low-E double pane windows
At least 75% fluorescent lighting
ENERGY STAR refrigerator (412 kWh/year) and ceiling fans (when present)
High efficiency heat pump, (at least SEER 14, HSPF 8.5)
Interior air handler closet (sealed and separated from attic and crawl space)
Radiant barrier decking
Sealed air distribution duct system (Qn,out = 0.03 or less)
Light colored exterior finishes
Insulated exterior doors with double pane lites

Workshops
Building America researchers conducted three one-day workshops for builders and affordable housing providers. Participants were encouraged to adopt Building America practices and the high performance package. Materials covered the improvement features in the demonstration houses including building science for the hot-humid climate, an introduction to the home energy rating system's HERS Index, and the Energy Star for Homes process.
Workshops commenced in the following locations:
Mobile, AL
November 20, 2008
BAIHP presented the Mobile Prototype I project to the general membership of the local chapter of the Air Conditioning Contractors of America (ACCA). A workshop was also produced in conjunction with the Home Builders Association of Metro Mobile. Despite direct mail promotion to over 1700 members of the Home Builders Association, attendance predominately consisted of local raters and other Habitat affiliates from south Alabama and the Florida panhandle. The site visit portion of the workshop generated considerable discussion.
Baton Rouge, LA
December 5, 2008
In conjunction with the LSU AgCenter's La House and the Capitol District Home Builders Association, BAIHP conducted a workshop worth four CEUs. Attendance consisted of approximately 30 people and included university students and faculty, raters, non-profit home builders, and for profit production builders.
Covington, LA
June 23, 2009
BAIHP also partnered with Louisiana State University's AgCenter program and West St. Tammany Habitat to present a workshop for home builders. Louisiana licensed builders participating received two CEUs. Two additional CEUs were available for participating in the site visit portion of the workshop. There were 20 attendees; of 18 reviews submitted 17 were favorable, with one attendee wanting additional LEED for Homes material.
For More Information Contact: Janet McIlvaine (janet@fsec.ucf.edu) or David Beal (david@fsec.ucf.edu)
Read about our partnerships with other Habitat for Humanity affiliates.
Habitat for Humanity International Gulf Recovery Effort
http://www.habitat.org/disaster/completed_programs/Gulf_Recovery_Default.aspx
The Department of Energy Disaster Recovery and Building Reconstruction
http://www1.eere.energy.gov/buildings/disaster_recovery/