Technical services provided to the HUD Code and modular industry
Contacts:
1. Introduction
The Building America Industrialized Housing Partnership (BAIHP) team is one of five Building America teams competitively funded by the US Department of Energy, Office of Energy Efficiency and Renewable Energy-Building Technologies program. BAIHP is led by the Florida Solar Energy Center (FSEC) of the University of Central Florida (UCF). Team members include the Washington State University Energy Program and the UCF Department of Industrial engineering. BAIHP was established on September 1, 1999 to focus on improving the energy efficiency, durability, and indoor air quality in HUD Code manufactured homes.

Figure E-1 shows the US housing sectors by housing type. While focusing on the HUD code and modular housing sectors, BAIHP is active in all these housing sectors and has a wide national network of collaborating builders, suppliers, and other team members (Please see Figure E-2). The BAIHP team provides technical assistance to about 30 site builders and modular home manufacturers including Habitat for Humanity affiliates throughout the nation.
BAIHP also is working to enhance the energy efficiency and learning environment in portable classrooms in the Northwestern states of Washington, Oregon, and Idaho.
| | |
| --- | --- |
| | |
| Figure E-1. 2002 housing by type | Figure E-2. BAIHP is all over the map! |
2. Technical Assistance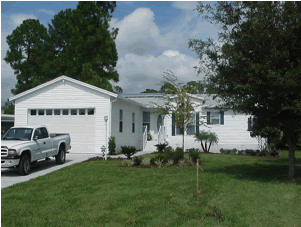 Figure E-3. An Energy Star home manufactured from Palm Harbor Homes, Plant City, FL.
Through August 2002 (the first three years of the project), BAIHP has assisted in the construction of more than 5,600 homes built to Energy Star levels of energy efficiency (HERS score of >=86). (Please Figure E-3 for example home.) An additional 10,400 manufactured homes have been built 30% to 50% better than the HUD code as a result of BAIHP efforts - missing the Energy Star mark by just 0 to 5%. Moreover, an additional 46,000 homes have been produced by team members with air tight duct systems through end of 2002. To date, BAIHP researchers have provided technical assistance to more than 31 HUD code or modular manufacturers at over 60 factories.
Technical services provided by the BAIHP team includes:
Third party certification as part of the Super Good Cents (SGC) program
Energy Star plant certification
Training of in-plant personnel and retailers
Design approval and home certification as part of SGC program
In plant quality assurance quarterly visits
Tracking and Documentation (web based)
Building science research and testing (duct leakage, envelope leakage, HVAC and ventilation fan flows, moisture and comfort problem diagnosis and solution)
Evaluation and adoption of new technology and systems (ventilation, duct, heating and cooling, solar ready, zero energy photovoltaic systems including development of specifications to assure quality factory construction )
Random field testing and inspection
Dissemination of research results to industry, SAA, COSAA, HUD, NFPA501
Details of Technical Assistance Provided to HUD Code and Modular Manufacturers
Technical assistance has been provided to over 31 HUD code and modular manufacturers (over 60 factories) as listed below.
HUD CODE MANUFACTURED HOME BUILDERS
Cavalier Homes (Addison , AL)
Plant visit, problem home testing.
Champion Homes (Redman - Plant City, FL + OR+ID)
Energy Star plant certification in FL, SGC/NC in ID and OR.
Champion Homes (Silvercrest in OR)
SGC/NC.
Clayton Homes (TN, GA)
Plant visit.
Fleetwood Homes (ID, OR, WA, FL , GA)
SGC/NC in ID, OR, WA; Plant visits, problem home testing in FL and GA. Coordination with corporate offices in Riverside, CA.
Fuqua Homes (OR)
SGC/NC.
Golden West Homes (OR)
SGC/NC.
Guerdon Enterprises (ID)
SGC/NC.
Hi-Tech Homes (IN)
Plant visit.
Homebuilders NorthWest (OR)
SGC/NC.
Homes of Merit (FL)
Plant visit.
Karsten Company (CA, OR)
SGC/NC.
Kit Manufacturing (ID)
SGC/NC.
Liberty Homes (OR)
SGC/NC.
Marlette Homes (OR)
SGC/NC.
Nashua Homes (ID)
SGC/NC.
Oakwood Homes (GA, TX)
Plant visits, energy analysis.
Palm Harbor Homes (OR, FL, TX, OH, NC, AL, AZ)
Plant Visits, problem home testing, energy analysis, Energy Star Plant Certification for FL, NC and OH, SGC/NC in OR, assistance to implement duct blaster testing of airtight duct construction in all factories, side-by-side testing in NC documenting 70% savings in heating and 55% in heating, cooling and domestic hot water. Moisture and indoor air quality research. Coordination with corporate office in Texas.
Skyline Corporation (OR)
SGC/NC.
Southern Energy Homes (AL, TX)
Plant visits, problem home testing, Energy Star plant certification in AL, duct blaster testing to begin in spring 2003 in all five AL factories.
Valley Manufactured Housing (WA)
SGC/NC.
Western Homes (CA)
SGC/NC.
MODULAR BUILDERS
All American Homes (NC)
Plant visit. Energy analysis.
Avis America Homes (PA)
Plant visit, energy analyses, factory simulation modeling, shop floor
information systems, integration of lean production principles in plant
expansion.
Cardinal Homes (VA)
Plant visit, energy analyses, factory simulation modeling, integration
of lean production principles in plant expansion.
Epoch Corporation (MA)
Plant visit, factory simulation modeling, lean manufacturing improvements..
Excel Homes (WV)
Plant visit, factory simulation modeling, integration of lean
production principles in new factory.
General Homes (MI)
Plant visit, energy analyses.
Genesis Homes (NC)
Plant visit, technical assistance to corporate director of engineering on Energy Star homes, green home checklist, 2002 Builders Show home.
Nationwide Homes (GA)
Plant visit, energy analyses.
The Homestore (MA)
Technical assistance to reduce construction cycle time, energy analyses.
Definitions:
Plant Visit - Written reports are provided. Activities include one or more of the following
• discussions with technical and management personnel
• training of line workers
• on-line and off-line testing of homes
SGC/NC - Super Good Cents / Natural Choice program in the Pacific Northwest. Activities include quarterly plant visits and reports, installer training, continuous refinement of technical standards, co-branding with Energy Star, testing of problem homes, periodic telephone conference calls. All SGC manufacturers are Energy Star as well having signed MOUs with EPA and have built Energy Star homes.
Problem Home Testing - Researchers test problem homes in the field and provide written recommendations. Problem homes exhibit one or more of the following:
• mold, soft walls, or buckled floors or other moisture related problem
• high utility bills
• comfort problems

3. Research Highlights
3.1 Moisture Problems in HUD Code Homes
Alleviating moisture problems is the highest priority research item of the HUD code industry. Buckled floors, moisture damaged walls, extensive mold, and other moisture problems are routinely found in new manufactured homes in the hot, humid Southeast. Figures E-4 through E-7 show some examples of the typical problems found.
| | |
| --- | --- |
| | |
| Figure E-4. Mold behind vinyl wallpaper. | Figure E-5. Mold under sink. |
| | |
| Figure E-6. Mold stain on vinyl flooring. | Figure E-7. Warped vinyl floor covering. |
BAIHP researchers who have field tested more than 35 homes from five manufacturers, have identified root causes for the moisture damage and have recommended solutions which were published in a peer reviewed ASHRAE article. BAIHP also provides training to field service personnel, collaborates with the Manufactured Housing Research Alliance and conducts laboratory studies to develop buckle resistant flooring materials. Palm Harbor Homes has wholeheartedly adopted BAIHP suggestions in all of its homes and now tests every home with a ductblaster in the factory. Not a single moisture problem has been documented at PHH since BAIHP recommendations were implemented at the factory. This is a far cry from the large number of complaints logged prior to implementation. The cost per home to employ airtight duct systems and return air transfers is less than $15!!
Requests for assistance to inspect and diagnose come from the following groups: Manufacturers, dealers, MH state associations, State administrative agencies, homeowners, State Energy Offices a and utilities. BAIHP participation in state installer training has helped to reduce set-up problems.
FSEC procured a manufactured housing lab (MHLab) to conduct systematic research on ventilation and indoor air quality and (IAQ), and to provide hands-on training. (Please see Figure E-8). The MHLab features two different HVAC systems each with its own complete duct system and a variety of supply, exhaust, and balanced ventilation systems. Occupancy is simulated with computer controlled lights, showers, and dishwasher use. More than 60 channels of data can be collected.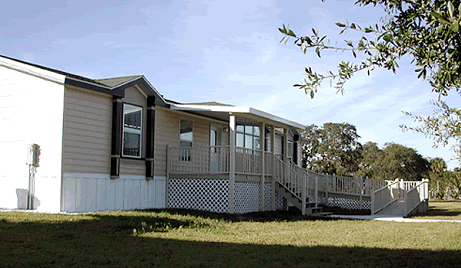 Figure E-8. The Manufactured Housing Lab (MHLab) at FSEC.
3.2 Field Monitoring
Several houses and portable classrooms are being monitored and collected data is displayed on the web at http://www.infomonitors.com/. Of special interest is the side-by-side monitoring of two manufactured homes on the campus of the North Carolina A & T State University (NCA&TSU) in Greensboro North Carolina (Figure E-9) where the advanced energy efficient home saved 70% in heating energy over the neighboring control home (Figure E-10)!

Figure E-9. Side by side NCA&TSU homes.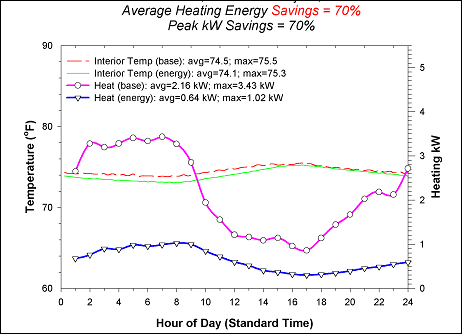 Figure E-10. Heating season savings.
The cooling energy savings was 33% during the summer of 2002. The water heating savings was also 33% and the combined Heating, Cooling and Hot water energy savings was 55%.
A recent effort has begun to test side-by-side a zero energy manufactured home and an Energy Star home in Idaho. These homes were built by Kit manufacturing.
3.3 "Cool" Roofs and Unvented Attics
Seven side-by-side Habitat homes were tested under unoccupied conditions in Ft. Myers to examine the effects of alternative roofing strategies. After normalizing the data to account for occupancy, minor differences in house set points, and equipment efficiencies, the sealed attic configuration was determined to save 9% and the white roofs about 20% on cooling energy when compared to the base-case home (tests conducted during the summer season in South Florida). The base-case or control roof included dark shingles. A summary of these comparisons can be found at http://www.fsec.ucf.edu/bldg/pubs/cr1336/CR1336.HTM. Research on a variety of cool roofs, including the new infrared reflecting metal roofing, continues at the FSEC Flexible Roof Facility. (Please see Figure E-11.)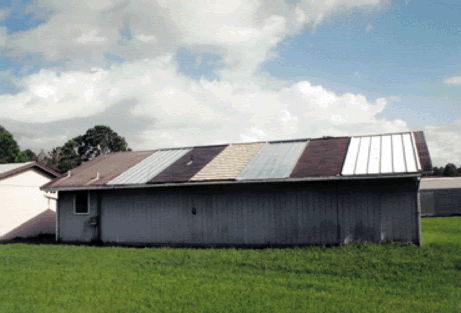 Figure E-11. Six cells from 2002 roofing experiments.
Cell #1 begins on the left, with Cell #6 located at the far right.
3.4 "Green" Housing
A draft point-based standard for constructing green homes in Florida has been developed and can be viewed at http://www.floridagreenbuildings.org/.
BAIHP researchers are participating as building science, sustainable products advisor to the HUD Hope VI project in Miami. This project's mission is to redevelop an inner city area by building 500+ new affordable and energy efficient housing units.
3.5 Healthy Housing
BAIHP researchers are participating in the creation of national technical and program standards for the American Lung Association Health House® program. Two successful media events were held during 2001 and 2002 educate the public on healthy housing concepts. Health House builder training was conducted in March, 2003 and will be offered again as part of the SouthEast Builders conference in July, 2003.
BAIHP has conducted and published significant research on whole house ventilation in HUD code homes, and has improved whole house ventilation systems in thousands of BAIHP/Energy/SGC home in the Pacific Northwest.
3.6 EnergyGauge USA®
This FSEC developed software uses the hourly DOE 2.1E engine with FSEC enhancements and an user-friendly front end to accurately calculate home energy ratings and energy performance. The newest version, 2.0, also can analyze photovoltaic and solar water heating systems. The software is available now. Please visit http://energygauge.com/ for more information.
3.7 Industrial Engineering Applications
Engineering researchers from the University of Central Florida Housing Constructability Lab (HCL), a research lab in the UCF Department of Industrial Engineering and Management Systems, have provided the following research assistance to the industrialized housing industry: lean factory design, energy performance benchmarking, quality management systems, shop floor information systems, and lean finishing on-site.
Lean Factory Design
HCL researchers participated in the grand opening of Excel Homes' new modular production facility in Ghent, WV. Excel Homes is one of the largest modular producers in the U.S., and the new factory will increase Excel's production capacity by about 50%. HCL researchers provided technical assistance in the design of the new operation, incorporating lean manufacturing principles and making the new factory more flexible, responsive, and efficient. To test these concepts, researchers developed a computer simulation model (please see figure E-12) of the proposed new factory. Innovations implemented in the new factory included supersize drywall, replacement of drywall screws with foam adhesive in walls, industrial manipulators and mechanized material bridges, pairwise line movement, off-line roofing and ceiling drywall, and specialized off-line customization bays.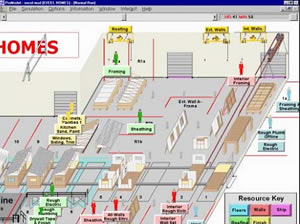 Figure E-12. Factory Simulation model: Framing
Benchmarking Energy Performance
HCL researchers have devoted considerable effort developing the thesis that energy performance is a key measure of quality for modular housing. Energy performance affects homebuyers, impacting their health, safety, home durability, comfort and energy costs. To increase the visibility of energy performance within the modular industry, the HCL team developed and initiated an industry-wide energy benchmarking effort. Baseline energy performance for selected modular manufacturers was measured and compared with competitors within and outside the modular industry. Findings were summarized in a report for each participating manufacturer, documenting the performance of each home tested and outlining a cost-effective approach to upgrade the home to Energy Star levels of performance. Homes were tested for envelope and duct air-tightness and inspected to identify specific opportunities for improvement. Energy analyses indicated that most homes could reach Energy Star levels (HERS 86) by tightening the envelope and ducts and by adding a programmable thermostat. Other homes required more extensive improvement, including additional duct insulation and more efficient heating/cooling systems.
Quality Management Systems
The UCF Housing Constructability Lab research team addressed the following issue for modular housing industry leaders. "Recommend practical and useable quality control practices that can be used in modular manufacturing." To develop an industry baseline, the team performed a series of quality system reviews for modular manufacturers who indicated that they had a formal quality system. During each on-site review, researchers interviewed company executives as well as functional management in charge of production, quality, sales, engineering, purchasing, and customer service. Researchers also accompanied inspectors as they walked the line. After establishing a baseline for the modular industry, researchers went in search of best practices being used by acknowledged quality leaders in the broader housing industry as well as other industries. Researchers identified seven fundamental concepts that were common in the quality leaders and documented numerous best practices for each concept. Researchers also explored options for incorporating quality-based metrics into employee incentive programs.
Factory Floor Information Systems
HCL researchers continue to identify and develop innovative information systems for the modular factory floor. The development of several software prototypes is underway, both involving production labor. The Status Tracking and Control System (STACS) is a real time labor data collection and reporting system. Production workers use wireless laser scanners to verify their current work assignment, including employee #, module # and activity #. Scanned information is transmitted immediately to a base station and then to a local laptop, where it is verified and temporarily staged. Information is periodically transmitted via wireless LAN to a central database computer where it is stored and used for reporting. A working prototype of STACS was successfully tested in a large modular manufacturer (please see figure E-13).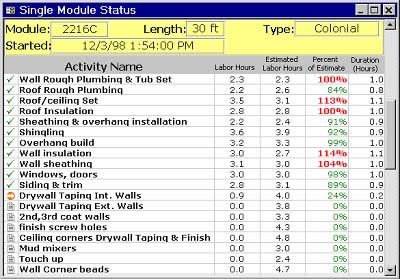 Figure E-13. STACS Real time production status by module
The Expert Labor Forecaster (ELF) is a labor estimating and planning tool based on the expert opinions of experienced production staff. These experts identify specific design features, termed key drivers, that contribute to varying labor requirements. ELF uses this expert knowledge to estimate the labor required for each manufacturing activity for a specific module. When coupled with a production schedule, ELF can project labor requirements for every activity on the production floor for any moment n time. ELF projects the following for each production activity: 1) the specific module being worked during each production cycle, 2) the projected cycle time assuming all available staffing is used, and 3) the minimum staffing required to complete the activity in the desired cycle time. To assist in labor planning, ELF highlights activities that are projected to have insufficient or excess labor. ELF can be used to assist in product costing/pricing, line sequencing and labor scheduling.
Leaning the On-site Finish Process
HCL researchers worked with one of New England's largest modular builders in an effort to improve their on-site modular finish process. Using findings from a kaizen rapid improvement event held in 2001, the builder has been successful in improving both the operation and the quality of their homes.