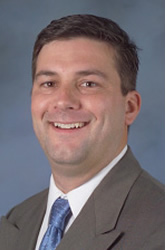 Charles Withers Jr.
Senior Research Analyst
Buildings Research Division
Florida Solar Energy Center (FSEC)
1679 Clearlake Road, Cocoa, FL 32922

Ph. 321-638-1419 / Fax. 321-638-1439
email: chuck@fsec.ucf.edu
Mr. Withers has been part of buildings research at the Florida Solar Energy Center since 1990, where he has performed field and lab research, in more than 20 projects. As co-principal investigator in two research projects he was chosen to evaluate the newly created ASHRAE Standard 152P (method of test of air distribution efficiency). He has extensive experience in field investigations in over 250 homes and 110 commercial buildings involving evaluation of energy efficiency and indoor air quality issues. His involvement in research has diagnosed air flow and moisture control problems in buildings and evaluated implicated energy impacts, discovered excessive ventilation rates in restaurants, and evaluated radon intrusion and radon control methods.
He was involved in identifying outdoor radon as a significant factor causing elevated indoor radon levels and helped design innovative way to measure subslab pressure fields in new construction. His most recent projects involve a study of energy efficient and reliable methods of controlling moisture in unoccupied homes in hot and humid climates, and detailed study of energy and indoor air quality impacts of commercial building duct leakage.
He is first author of 5 peer reviewed research papers and co-author of over 40 other published papers and reports. He has also been author of a nationally published article on Optimizing Air Distribution Systems in Sept/Oct 2003 issue of Smart Homeowner Magazine. He is co-author to another article soon to be published in ASHRAE IAQ Applications regarding an experiment on carbon monoxide generation and transport into single-family homes with attached garages.
Mr. Withers has significant training experience that he has used to help transfer research findings to building professionals. He has been an instructor for Florida Energy Gauge Class 1 Home Energy Rating program, several duct leak test method courses, IAQ diagnostics, and courses involving good design, maintenance and operation in schools and other commercial buildings.