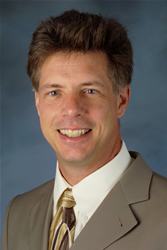 Rob Vieira
Director
Buildings Research Division
Florida Solar Energy Center (FSEC)
1679 Clearlake Road, Cocoa, FL 32922

Ph. 321-638-1404 / Fax. 321-638-1439
email: robin@fsec.ucf.edu
Mr. Vieira has over 20 years of experience in hot, humid climate buildings research. He has led research efforts in residential auditing and field evaluation projects, survey and statistical work, and computer simulation and analysis. Rob has directed FSEC's residential EnergyGauge software development teams. EnergyGauge is used for calculating code compliance and conducting energy and economic analysis. He has presented over 40 workshops and seminars on sustainable development and energy-efficient construction to developers, builders, designers and others in the energy & environmental & development fields. Rob has written papers for diverse audiences, e.g.,
Transportation Quarterly
,
Florida Planning
, and
ASHRAE Transactions
, and was the primary author of one book,
Energy-Efficient Florida Home Building
. Rob served as the chair for the organizing committee of the 501C3 Florida Green Building Coalition and currently sits on the board of directors. The Coalition brings together people from industry and environmental concerns to create incentives and voluntary standards for designating green homes, green land developments, green commercial buildings and green cities and counties. Rob has a B.A. in Physics, an M.S. in Applied Solar Energy and an MBA.