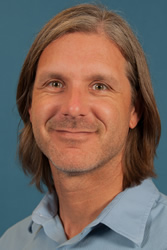 Eric Martin
Principal Investigator
Program Director
Buildings Research Division
Florida Solar Energy Center (FSEC)
1679 Clearlake Road, Cocoa, FL 32922
Ph. 321-638-1450 / Fax. 321-638-1439
email: martin@fsec.ucf.edu
Eric Martin is a Program Director in the Buildings Research Division at the Florida Solar Energy Center (FSEC), where he has worked since 1995. His current focus is the Building America Partnership for Improved Residential Construction, a project funded by the US Department of Energy which performs cost shared research to achieve 30% to 50% savings in new and existing housing. He holds a Bachelor of Science in Chemical Engineering and a Master of Science in Environmental Engineering, both from the Florida Institute of Technology.
Mr. Martin has been active in the state as well as national green building movement through his work at FSEC, and through previous service on the Board of Directors for the Florida Green Building Coalition, Inc., and the LEEDTM Homes Committee of the US Green Building Council. Mr. Martin chaired a committee to develop a statewide green residential building standard, and is active in maintaining the effort through oversight and training. Mr. Martin has also been involved with development of a green standard for Florida City and County governments, sponsored by the US Department of Energy and the Florida Energy Office, and has authored a document containing green guidelines for maintaining existing commercial buildings in Florida, which was funded by the Florida Department of Environmental Protection.
Mr. Martin's other areas of research have included involvement with building energy simulation software development, through testing and validation. Before joining the FSEC Buildings Research Division, Mr. Martin conducted research at FSEC in the areas of photocatalytic pollutant detoxification. This work, sponsored by the US Navy, resulted in seven US patents. Mr. Martin has also been involved with hydrogen energy research, including design, simulation, and optimization of a renewable hydrogen energy system for remote applications.