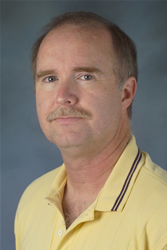 David Hoak
Project Specialist
Buildings Research Division
Florida Solar Energy Center (FSEC)
1679 Clearlake Road, Cocoa, FL 32922

Ph. 321-638-1458 / Fax. 321-638-1439
email: dhoak@fsec.ucf.edu
David Hoak is a Project Specialist in the Buildings Research Division at the Florida Solar Energy Center He began his work with FSEC as a as an engineering consultant in 2002. He brings over 15years of experience based knowledge in the areas of Computer Technology, Electronics Design, Home Automation and Energy Efficient residential housing construction.
David drives a 70+mpg Honda Insight and lives with his family in a very energy efficient home in Longwood, FL. Details at
/data/CFRes/index.htm
.