BA-PIRC Partnership with
CPS Energy
San Antonio, TX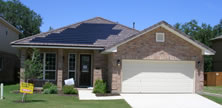 CPS Energy, the municipal electric and gas utility in San Antonio, TX, began a partnership with Woodside Homes in 2008 to build and test three side-by-side homes with identical floor plans of approximately 2,000 sq. ft. One home serves as a control and was built to standard practice. The second home is energy efficient with a HERS Index of 54, and the third home utilizes solar power with a 2.4 kW PV array and a HERS Index of 37.
Measured results of this project were published and presented in December 2010 through the Thermal Performance of Exterior Envelopes of Whole Buildings XI International Conference, Clearwater Beach, Florida.
For More Information