BA-PIRC Partnership with
Auburn University School of Architecture
Auburn, AL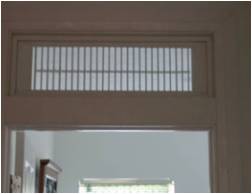 Transom return air pathway with operable louvers blends in with the vernacular aesthetics of this DESIGNhabitat Energy Star home built in conjunction with Auburn University's College of Architecture.
David Hinson from the Auburn University College of Architecture contacted BA-PIRC about a prototype "DESIGNhabitat" home. Three Energy Star homes have now been built with the local Habitat affiliates in Auburn. The prototype will be offered to affiliates statewide through the Alabama Association of Habitat Affiliates (AAHA) and non-profit Design Alabama. AHA requested indoor air quality and combustion safety testing plus design input on the prototype home in 2002 and 2003. The design features vernacular touches that enhance energy efficiency such as the screened front porch, operable transoms over doors (for ventilation and return air flow), metal roofing, and large overhangs (Figure right). A sealed combustion closet for the gas water heater, sealed and tested ducts, and high efficiency heating and cooling complete the energy package.
For More Information