BA-PIRC Partnership with
Southern Energy Homes
Addison, AL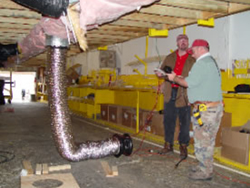 Southern Energy Homes quality control engineer conducts in-plant duct leakage test.
BA-PIRC partner, Southern Energy Homes, took steps to achieve substantially leak free duct systems in all their homes. They switched from UL 181 approved tapes to mastic and fiberglass mesh for forming component connections in all their duct systems and began testing duct systems during production (Figure right).
In 2006, this manufactured home builder requested assistance in diagnosing and solving moisture related issues in their homes. During 2006 and 2007, BA-PIRC personnel helped this manufacturer develop duct designs that placed all the ductwork within the thermal envelope as well as eliminating external cross-over ducts. Southern Energy Homes took a radical departure from the standard manufacturer duct system approach. A single soffit located within the conditioned space at the marriage line provides the space to aesthetically place the duct system. Field monitoring began in 2007 for the Southern Energy prototype and continued through summer of 2009.
For More Information