BA-PIRC Partnership with
Schroeders Homes Inc.
(also known as Blue Sky Homes)
Venice, FL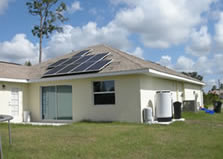 In June 2007, Schroeders Homes was welcomed as a BA-PIRC partner who built a near zero-energy concept home in North Point, FL. The high performance ~1,450 ft2 home features a dual-oriented photovoltaic and solar water heating system. The thermal envelope consists of concrete walls (R-7.8), a vented attic with R-38 insulation, and radiant barrier decking with a shingle roof. BA-PIRC performed Energy Gauge simulations, installed data logger instrumentation, and began monitoring the energy use of this high performance home prior to the installations of the PV array to compare pre-PV energy use data against post-installation data. In addition, we made recommendations to optimize PV, prepared a plumbing and instrumentation plan for the water heating system that uses energy recovery units, as well as provided assistance for solar thermal and air conditioning systems. Monitoring of this home ended in November 2009.
For More Information