BA-PIRC Partnership with
Royal Concrete Concepts
West Palm Beach, FL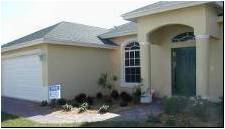 The Grand Emerald by Royal Concrete in Pt. St. Lucie, FL was Florida's first LEED certified home.
Royal Concrete Concepts is a producer of concrete modular buildings and concrete tilt-up wall panels. In 2006, BA-PIRC worked with Royal Concrete Concepts to incorporate PV on concrete modular residential buildings while still in the factory. We also assisted in updating load and energy calculations and conducted performance testing on a panelized home in Pt. St. Lucie, FL (see figure). This home became the first certified USGBC LEED Home in Florida in 2007. Other features of this prototype design are good R-values, tight envelope with balanced mechanical ventilation, and ducts in conditioned space. In 2008, BA-PIRC researchers visited Royal Concrete to explore future work with advanced concrete wall panels.
For More Information