BA-PIRC Partnership with
Palm Harbor Homes - Corporate
Addison, TX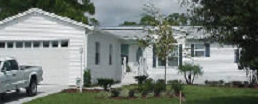 A Palm Harbor Energy Star home manufactured in Plant City, Florida.
BA-PIRC collaborates with Palm Harbor Homes (PHH) offering building science advice, energy ratings, and conducting diagnostic testing including infrared building and duct air tightness thermal imaging camera inspection. As a result, PHH now incorporates added return air transfer ducts to minimize pressure imbalances in the conditioned space and measures leakage of every duct system to ensure losses below 3% (Qn total) at every factory.
Energy Star Plant Certification for Palm Harbor Factories nationwide
With FSEC guidance, PHH Plant City produced the world's first two HUD-code Energy Star homes in 1997 (Figure above). Since then, EPA has implemented an Energy Star factory certification procedure which involves testing in both the factory and at the home sites. The procedure verifies consistent factory production of Energy Star level manufactured homes.
Factory in Plant City, Florida
Energy Star Plant Certification
Researchers initiated certification procedures for Energy Star per the EPA/MHRA guidelines. FSEC reviewed the Design Approval Inspection Agency (DAPIA) packages and design procedures. The PHH Plant City factory was certified in February 2003 and registered one Energy Star home in Polk County, Florida.
Building America Homes
Palm Harbor Plant City built two homes that met or exceeded current Building America energy goals, one home used in a Manufactured Housing Indoor Air Quality (IAQ) study, and a high visibility modular home built for the 2005 International Builders Show (IBS) in Orlando FL. Both homes were built in cooperation with BA-PIRC researchers. The IAQ house's HERS score was 91.1, the IBS building scored a 93. The IAQ home demonstrated a 50% saving in A/C energy compared to an Energy Star rated home (HERS of 86.5) used for control in the same experiment. The IBS showhouse is detailed in the Technical Assistance section under "International Builders Show Showhouses."
Additional partnership activities with Palm Harbor Homes' Plant City Facility are discussed on the
Palm Harbor Homes - Plant City Partnership Page.
For More Information