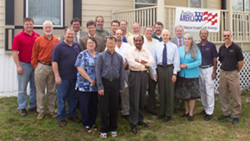 BA-PIRC Research and Technical Assistance Team
BA-PIRC History
The Building America Partnership for Improved Residential Construction (BA-PIRC) team, formerly known as the Building America Industrialized Housing Partnership (BAIHP), is a university-based Building America team competitively selected for funding by the U.S. Department of Energy, Office of Energy Efficiency. BA-PIRC works with partners throughout the United States to foster adoption of systems engineering principles leading to enhanced energy efficiency in new and existing housing.
The project focuses on effectively balancing cost, design, construction, and energy decisions to develop customized solutions for our team members. The Building America Partnership for Improved Residential Construction brings practical research expertise to America's Home Building Industry.

BA-PIRC Goals
Perform cost shared research to achieve Zero Net Energy (ZNE) and ZNE-ready new homes and systems-engineered retrofits of existing housing.
Address specific improvements in risk reduction, cost reduction, design, construction and remodeling processes required to successfully deliver better building practices to market.
Develop quality management tools, technical support, and cost/performance documentation that builders and remodelers require to accelerate the adoption and implementation of highly energy efficient building practices.