WCI Communities at Evergrene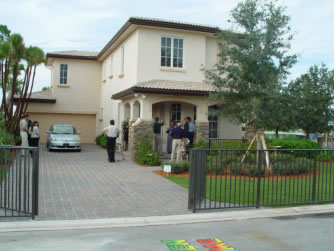 BAIHP has partnered with WCI Communities, Inc. on the first in a series of prototype "green homes". The home was built in WCI's Evergrene Community, in Palm Beach Gardens, Florida in August, 2003. WCI constructed the Green Home at Evergrene as a model home to showcase the latest in green building technologies and features to its customers, and the community at large. WCI maintains a website dedicated to the home at www.greengeneration.org.
BAIHP team members conducted an energy rating on the home, which achieved a score of 92 on the Home Energy Rating Scale. The BAIHP team also certified the home for the Florida Green Home Designation Standard. The home far exceeded all other homes certified to date, scoring 314 points. The minimum score required for qualification is 200 points. With this score, the home earns the distinction of being the "greenest" home in Florida according to the guidelines set forth by the Florida Green Building Coalition, Inc.
Energy Efficiency Features Include:

· Energy Star appliances.
· Variable speed 15 SEER air conditioner.
· Low solar gain windows (SHGC = 0.42)
· Compact fluorescent and fiber optic lighting with occupancy and daylight sensors.
· Ductwork in conditioned space via an unvented attic.


As seen in the photo above, mastic used for duct sealing helps create a nearly "leak free" air distribution system. The photo below shows the insulated concrete forms (ICF) used for first floor exterior walls. ICF's help create a tight, energy efficient building envelope.


Indoor Air Quality Features Include:

· Extensive VOC source control through paint, cabinets, and countertops selection.
· Mechanical ventilation.
· Whole house filtration with UV sterilization.
· No CCA treated lumber used for the home's construction.
· Reverse osmosis drinking water purification.
· Integrated pest management

Disaster Mitigation Features Include:

· Impact resistant glass.
· Impact resistant doors.
· Meets FGBC criteria for wild fire resistance.
· Meets FGBC Criteria for flood resistance.
· Vapor permeable insulation.


A portion of rooftop runoff is collected in rain barrels, while the remainder is diverted to an underground "rain garden", which distributes it throughout the landscape.

Water Efficiency Features Include:

· Dual flush toilets.
· Automatic faucets.
· Drought tolerant landscape.
· Micro-irrigation
· Rainwater harvesting.

Materials Resource Efficiency Features Include:

· All lumber used is certified sustainable.
· Extensive use of engineered lumber.
· Eco-friendly flooring and finishes.
· Construction waste management plan.