City of Orlando, Florida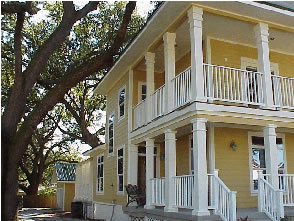 The City of Orlando, through the office of Housing and Community Development in the Planning and Development Department, constructed an environmentally friendly demonstration home called the "Orlando House: Florida's Future", on an infill site within the city. The City requested FSEC assistance to assure the home met Building America goals and the Florida Green Home Designation Standards. Ground broke on the demonstration home in December 2001 and the home was open to the public for community educational purposes for approximately one year.
The City acquired more than $100,000 in donated materials and services for the project, and completed much of the construction using their own staff. Along with public education, a primary purpose for this project was for the city staff to gain first hand experience on the use of green building materials and techniques - especially those that relate to energy efficiency, indoor air quality, durability, disaster mitigation, and termite resistance. That experience would allow the products and techniques to be effectively used in future low-income housing constructed by the city.
FSEC certified the house for the Florida Green Home Designation Standard in February 2003. FSEC staff also presented information regarding Florida Green Home Designation as part of a builder training event held at the Orlando House. Two CEU's were available to attendees, and approx. 30 persons attended from central Florida area. Training also included talks on Zero Energy Homes, Florida Sun Built Program, and a "builder panel" that included 3 BAIHP partner builders.
The demonstration home was sold in May 2003, and money acquired from the sale will go directly towards the construction of low income housing that utilizes several green building techniques.
Table XX Orlando House Specifications
Conditioned Area
2148 ft2
HERS Score
88.3
Envelope
Equipment
Above-grade Wall Structure
Steel Frame 1st and 2nd Floors
Heating & Cooling
13 SEER Heat Pump
Above-grade Wall Insulation
R-19 Icynene
Thermostat
Programmable
Exterior Wall and Roof Sheathing
OSB - Borate Treated
Ventilation
Passive outside air vent
Attic
Unvented R-19 Icynene
Water Heater
50 gal, EF 0.88 (Elec)
Roof
Metal
Lighting
100% Fluorescent
Windows
Double Pane low-e
Appliances
Energy Star
Green Features
Termi-mesh
Safe Room
VOC source control
Resource efficient interior finishes Durable exterior finishes
Ultra-low-flow water fixtures
Low water using landscape
Pervious driveway/walkway