Homes in Partnership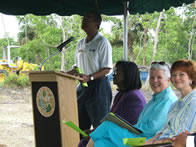 The Building America Industrialized Housing Partnership (BAIHP) will provide design assistance to Homes in Partnership, Inc., as they construct seven new 1,200 square foot homes in Sanford, Florida. Homes In Partnership gives families in the Central Floridaarea the opportunity to achieve the American dream of affordable home ownership. The organization was founded in 1975 by a group of concerned citizens who saw the need for improved living conditions in the farm worker and low-income families of Central Florida. They allow the use of "sweat equity" as a down payment and provide mortgages with flexible interest rates and payments that can be adjusted according to income and family size.
BAIHP recently met with Homes in Partnership executive director Lewis Kellom and builder John Clinger, as well as Melvin Philpot of Progress Energy to discuss design options aimed at bringing the homes well above the Energy Star efficiency level. The homes were already designed to meet Energy Star with double pane windows, SEER 14 air conditioners and R-30 attic insulation. BAIHP has suggested additional cost effective options including an indoor air handler, tight ducts, light colored shingles and walls, an attic radiant barrier and increased use of fluorescent lighting. If implemented, these additional measures raise the HERS score from 86.6 to 88.6 and provide an estimated savings of 9% on annual electric costs.