Central Florida Dream Home
The Central Florida DREAM Home (Durable, Resource-Efficient, Achievable Model) was conceived, designed and built by Fallman Design and Construction, with assistance from the Building America Industrialized Housing Partnership, the University of Florida's Florida Yards & Neighborhoods program and the Lake County Water Authority. The result is a home that serves as a model for energy efficiency and resource conservation in Central Florida.
The Central Florida DREAM Home is the first home in the state of Florida to be certified by the Florida Green Building Coalition and was awarded the 2002 Energy Value Housing Award sponsored by the National Association of Home Builders.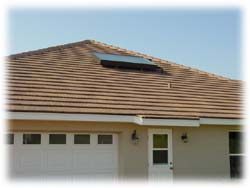 Outstanding Value and Durability:
By using time-tested components such as a 12.0 SEER heat pump, digital, programmable thermostat, R-30 batt insulation and a concrete tile roof, this home will be extremely durable. The passive solar water heater uses no moving parts and promises a lifetime of maintenance-free operation and contributes to the homes overall energy efficiency. A central dehumidification, ventilation and advanced filtration unit completes the system and guarantees a cleaner, healthier environment for the home's future owner.
Energy Saving Features:
All A/C ductwork located in conditioned space

R-30 attic insulation

R-5.4 rigid block wall and R-11 batt frame wall insulation

12.0 SEER Trane XE1200 heat pump

Air handler in conditioned space

Insulated french patio doors.

Digital, programmable thermostat

Tinted, insulated windows

Foam sealants per Insulation Practice II on all exterior wall openings.

Sealed and tested ducts (testing performed by a State certified rater).

Home air infiltration test (performed by a Sate certified rater).

Concrete tile roof.

Passive solar water heater.

18" hip roof overhangs

Combination of 10' and 8' ceiling heights to minimize cubic footage of conditioned space

Whirlpool Energy Star appliances included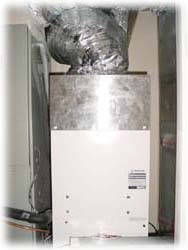 Indoor Air Quality Features:
In addition to the energy efficient upgrades mentioned above, the DREAM home boasts several features designed to improve indoor air quality:
Therma-Stor Ultra Aire 100v central dehumidification and ventilating system
5-1/2" pleated filter to remove 98% of airborne particulates like dust and pollen.
Wood and tile flooring in all main living areas
Direct vent gas fireplace.
Humidistat controlled bath fans run automatically when humidity increases.
Corian counter tops eliminate off-gassing associated with particle board tops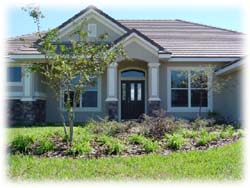 Water Saving Xeriscape Landscaping and Irrigation:
Drought tolerant plants and trees
Micro-jet irrigation for all plant beds
Separate irrigation zones for plant beds and turf area eliminates unnecessary watering
Digital, multi-zone irrigation timer for accurate watering cycles
Rain-sensor shutoff valve